What is a resume?
A resume is more than a collection of everything you have done up to this point and it is more than words that you type into a template.
A resume is a marketing piece that you use to market your skills, experiences, and the potential you have to do a job.
Successful resumes are carefully crafted to demonstrate to an employer that you have the skills, experiences and education to do the specific job they want filled. That's when you will get a request for an interview. And that is what a great resume does: gets you an interview.
The UW-Eau Claire Resume Guide gives you the tools you need to make your resume stand out in a crowd of resumes.
Collect your history
The first step in a succesful resume is to gather all the information you can about yourself. It's crucial to think outside the box and consider any thing you did that you gave you experience in a skill. Learn more.
Make your resume relevant
If the information you present on your resume is not relevant to the job, the employer will not interview you. Understanding the needs of the employer and how you can demonstrate that you can do the job is one of the most critical steps to a successful resume. Learn more.
Write and format the sections of your resume
Once you have an understanding of your skills and how they meet the needs of the employer, you need to write and format the sections of your resume so the employer can quickly see that you are a great candidate for their position. Learn more.
Layout and design tips
Poor design can hurt your job campaign. Take the time to really work on your layout so that your most important points stand out. Learn more.
Review and refine
The easiest way into the Reject pile is with a typo. Don't let that happen. Get feedback and proofreading help from a variety of sources Learn more.
FAQs
Helpful Handouts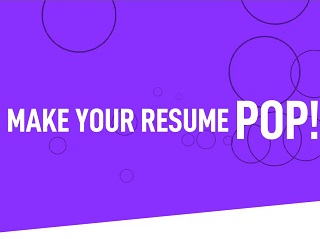 Make Your Resume POP
Download Quick Tips (PDF)
CareerSpots.com ©